Who We Are

Sustainable Mill Valley (SMV) is a community-building organization. Currently we have more than 200 members from Mill Valley, greater Mill Valley and other Marin communities on our e-mail list.


Purpose

To foster sustainable decision-making throughout Mill Valley, with a focus on promoting the adoption and implementation of public policies that reflect sustainability principles.


What We Do

To learn more about our initiatives and projects, visit our Projects page.

In addition to our projects we support each other in learning how to live more sustainable lifestyles. We are a non-hierarchical organization and make our decisions by consensus. Sustainable Mill Valley meets regularly and welcomes newcomers.

Sustainable Mill Valley is affiliated with Sustainable Marin and Sustainable North Bay. We participate in county activities and we network with other groups like Sustainable Fairfax and Sustainable Sonoma.


Find Out More

To get more information about our organization, or to attend a meeting, please contact us.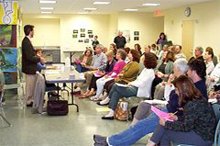 Sustainable Mill Valley and Sustainable Marin co-produced a panel discussion on what sustainability means, and how we can help bring it to the forefront in community planning.