Sustainable Mill Valley Community Bulletin Board


Sustainable Mill Valley will post on this page events, activities and bulletins related to sustainability. If you have a relevant event you would like listed, or to get more information about our organization or to attend a meeting, please contact us.






Marin County sustainability indicators

We have started on a project to collect sustainability indicators that are of relevance to Marin County. Click here to see this work in progress.






Fraudulent flyers carrying the Sustainable Mill Valley name

It has been brought to our attention that flyers, purportedly coming from Sustainable Mill Valley, have been illegally put in mailboxes. These flyers were used to circulate a message about the dangers of wood smoke to people living on Longfellow in Mill Valley.

Sustainable Mill Valley is not involved in this action. It is illegal to put flyers in mailboxes - the law requires that they must be properly mailed with a stamp. We have also not been approached by anyone on the issue being brought up in the flyers, nor has it at any time been a subject of discussion at SMV.

We condemn the use of our name for what appears to be a private matter. The regional air quality district carries responsibility for regulations around wood smoke. If anyone is not satisfied with the existing regulations, this discussion should be brought into the open using public fora, not by misleading the public through fraudulent use of the name of a respected organization.






Community Choice Aggregation coming to the Bay Area

San Francisco is making progress toward community choice electricity aggregation (CCA). If expanded among the large cities, municipalities, water agencies and school systems of California, CCA can lay claim to potentially being a powerful means by which we keep more coal in the ground, LNG terminals off our shores, and added CO2 out of our air while dramatically scaling up sustainable renewable power, energy efficiency and local self-reliance. Click here to read the press release.


CCA also has potential economic and anti-risk benefits for Marin as you can read in this white paper.

We hope you'll pass along the good news about this practical way to fight both global warming and electricity rate volatility and let Marin County Supervisors and Marin city officials know CCA is one big, positive answer to our urgent local and California energy challenges we can't afford to let pass by.

For more information, contact Ed Mainland, Secretary, Sustainable Marin, 415-902-6365.





WE WON: Sustainable Mill Valley Endorses the GMO Free Marin Initiative

GMO Free Marin is a group of concerned Marinites whose goal is to ban the cultivation of Genetically Modified Organisms (GMOs) in Marin County. The group believes GMOs pose a real danger to human health and the environment and that the precautionary principle should apply to this new technology which has yet to be fully researched but has already shown harmful characteristics. The control of these substances is especially critical due to the irreversible nature of the damage that they can cause.

Click here to go the the GMO Free Marin website
Click here to read the full text of the GMO Free Marin Initiative





Recommended Reading
SMV has been working with the Mill Valley Public Library to ensure the availability of leading literature on the subject of sustainability.

Click here for a list of recommended reading and to the check their availability in the library.





Sustainable Mill Valley Looking for Sustainability Leaders!

Please contact sustainablemillvalley@yahoo.com for information and directions.

Are you looking for a way to give back to your community? Are you interested in making Mill Valley environmentally and socially a great place to live not only now but also far into the future? We are looking for a few energetic people to help us on specific ongoing projects, or to start new projects.

Click here for more details.






SMV RECOMMENDS·

Center for New American Dream (NEW DREAM.ORG): "The Conscious Consumer Site"

A brand new web site that will help you find environmentally and socially responsible goods and services is now available: The Conscious Consumer site at http://www.newdream.org/consumer/

In today's global marketplace, we rarely see what is behind the stuff we buy. Where does a particular product come from? What are the working conditions for the person or people who created it? What impact has the materials' extraction had on the natural environment? On nearby communities? If you're tired of standing there in the aisle, confused and feeling vaguely guilty, check out The Conscious Consumer. This new website will make it easier to know your stuff!






Stop Junk Mail

The volume of paper junk mail sent each year in the USA is staggering.
The average person gets 1 personal letter each week, and 11 pieces of junk mail.
Each person will receive almost 560 pieces of junk mail this year - that's 4.5 million tons of junk mail produced each year!
44% of all junk mail is thrown in the trash, unopened and unread.
Approximately 40% of the solid waste in landfills is paper and paperboard waste; by the year 2010, it is predicted to make up about 48%.
100 million trees are ground up each year to produce junk mail.
The world's forests (and the critters that live in them) are feeling the strain. According to World Watch Institute, 80% of all natural forests in the world have vanished, at the same time that up to 50% of all landfill waste is wood and paper. Junk mail transforms standing forests into landfill waste. Even if you recycle junk mail, there are still huge environmental costs such as ink, the energy to produce and deliver it, and forest loss.

Click on the document below to see how, with just a few minutes of your time, you can immediately take the necessary actions to dramatically reduce the junk mail you receive, and thereby reduce your impact on the earth. Taking the first four steps alone will reduce your junk mail load by up to 80% within six months. Additional steps are provided that will reduce your load even further.


| | |
| --- | --- |
| | Download the Stop Junk Mail Document UPDATED |



Bill Moyers on PBS
TV show Now with Bill Moyers
Channel 9
Fridays
10:00pm (Check listings, time may vary)

Each episode of this weekly series features content that is timely and topical, with the goal of providing context and meaning for the news of our time. This well-paced program is a mix of documentary, conversation, essay, and commentary. Bill Moyers serves as both Managing Editor and Host.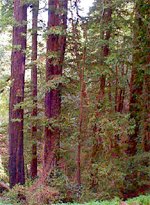 Trees, such as these in Mill
Valley's Earnscliffe Canyon
Park, contribute to the health,
as well as the beauty, of the
planet. You can help save trees
by halting unwanted junk mail.
(see below)